Corporate Information
ISO Certification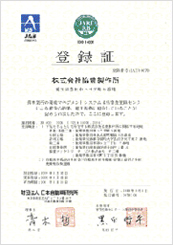 Companywide certification of all departments, from design to manufacturing, at five Kyoho facilities.
As a wholly owned subsidiary of Toyota Motor Corporation, Kyoho was the first automotive parts and equipment maker to acquire ISO certification.


Acquired certification for the Hyoho Hybrid-car Parts Division.
We deliver quality parts that make our customers happy.