Corporate Information
A Word from Our President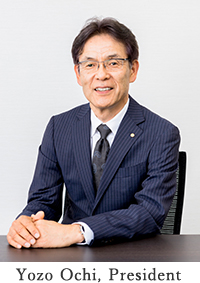 Since our founding in 1949, we have consistently grown by supporting manufacturing in the automobile industry from various angles, and have contributed to customers and local communities. We have complemented and evolved each other in the form of four businesses of body parts, unit parts, equipment development and factory support, required by the automobile industry by making parts with high quality and excellent cost, creating highly efficient equipment, and helping customers in factory innovation and maintenance.
Nowadays, as society and the automobile industry themselves are entering into discontinuous changes and innovations based on the remarkable progress of information technology, real manufacturing and service are required at a higher level. While refining the technologies, skills and manufacturing spirit that we have cultivated so far, we will not hesitate to take on new challenges, meet the expectations of our customers, and eventually contribute to the prosperity of local communities and the development of the world.
Business Principles
We put the safety of our employees above all else, and our employees themselves also achieve a worksite where safety is secured.
We engage in unstinting quality improvement and technical innovation, offer attractive products, and aim to sustain customer trust together with achieving long-term growth.
We give thought to the natural environment along with complying with laws in letter and spirit, and contribute to social growth through corporate activities rooted in the local region.
We create a proactive and bold corporate culture grounded on mutual trust between labor and management and imbued with the spirit of challenge and commitment to success.
We mutually strive to maintain devotion to learning, continue to maintain open and fair business relationships, and achieve coexistence and mutual prosperity.