Product information
Equipments and devices
High-output electrical servo units (300 or 500 kN output)
Direct drive type electrical servo unit
A compact, high-rigidity, high-precision servo unit was realized by developing of a direct-drive configuration. In addition to reducing primary power consumption by regenerating energy, the use of multi-polar motors and a skewed magnetic field can minimize fluctuation in output force.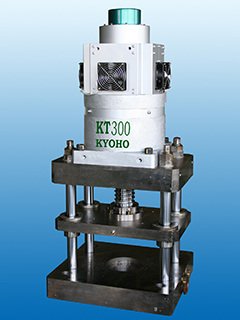 Servo unit
KT/KV series
Capable of controlling up to four axes, this single controller unit can be sued for multi-axle press fittings, slides, and other multi-axle operations. The display unit features an integrated teaching box that permits review of insertion wave forms.
There are five models, offering output from 10 to 75 kN.
The high-speed KV series uses a hollow motor to achieve long strokes. Our varied product lineup enables you to choose a model that fits your application perfectly.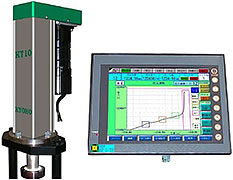 Controller specifications
| | |
| --- | --- |
| Items | Specification |
| Number of programs | 100 programs |
| Insertion axes | Up to four |
| PLC connection | Serial I/O |
| Data storage | Memory card |
| Output accuracy | ±2% |
| Position/thrust output | Individual output of position and thrust |
| Positioning precision | ±0.01 |
| Range of thrust output | 10–1,000 kN |
| Settings device | General-purpose touch panel (with waveform display) |
| Display color | 8.4"color TFT |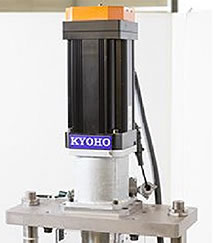 Actuator specification
Max. force
output in kN
Normal force
output in kN
Maximum speed
in mm/s
KT10
10
5
175
KT20
20
10
250
KT30
30
15
210
KT45
45
30
300
KT75
75
50
250
KT300
300
150
200
KV10
10
5
500
KV30
30
15
500
500 Toku
500
260
200
Equipment utilizing servo units
Engine part press fitting machine
Realize a diagonal press fitting by the high-rigidity of press fitting unit.
1/2 space saving is realized by functional compactification through diagonal layout of devices.
Kyoho's KT controller unit for press fitting control can manage the wave pattern.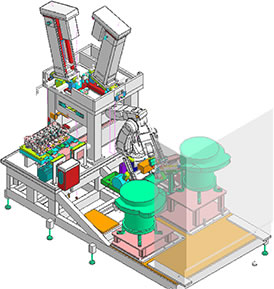 Powder forming equipment
The use of vertical-axis synchronization enables a precision not available from hydraulically controlled units. Forming precision is realized by vertical-axis synchronization which is unavailable by hydraulic.
This compact unit is operated by servo units.
Automation equipment
Transmission assembly
Two processes for meshing and assembly of gears are consolidated in a single unit.
The gear assembly process is operated per a torque limiter and 3D linear interpolation.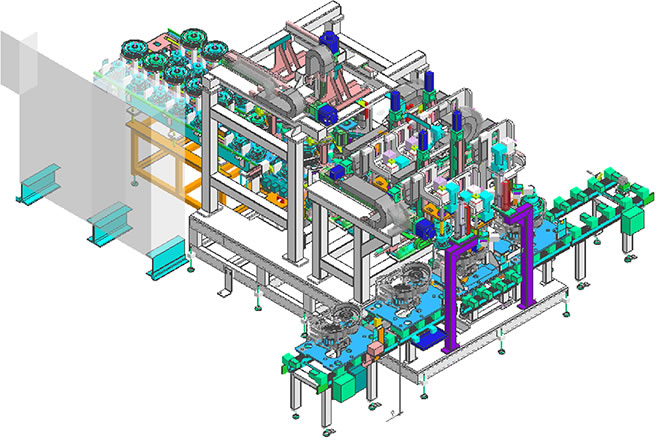 Engine parts assembly
This single unit consolidates press fitting, tightening to torque, stamping and allocation supply.
Equipment compactification realized by numerical control of the parts picking process and the application of slide jigs.